"How To Avoid The
Biggest Problem
People Have With ADD/ADHD..."
Even If You Don't Know You Have It...

From The Desk of: Dr. Kenny Handelman
Re: Avoiding ADD/ADHD Problems
Date: Wednesday, 3:52 pm


Dear ADD/ADHD Advocate:
As a Psychiatrist who specializes in ADD and ADHD, I dedicate a lot of energy to getting information about ADD and ADHD out to the people who need it.

People like you.
I'm often invited to speak about ADD and ADHD to educate doctors, medical students, teachers, school principals, therapists, parents, adults with ADD, etc.
Why?
I'm on a mission to make sure that people know the real facts.
Not the 'misinformation' that is out there on a regular basis.


But The Facts
Often
Aren't Enough

...

Once people know the facts - they need to learn the right perspective.
Knowing the right information can make a world of difference for people with ADD and ADHD.

But having the right perspective - can literally transform lives.

The right perspective can turn this so called 'disability' into an asset.

And that's why I want to help to dispell...
The
Biggest Problem


People Have With ADD

The biggest problem people have with ADD is: Misinformation.

Although there is great research out there, people are often misinformed about ADD/ADHD.

Misinformation can come from many different sources like:

The Media
Family Members
Neighbors
Teachers
... and maybe even your doctors
That's why I'm on my personal crusade to help to make sure that you get the information you need to improve your or your child's life with ADD.
The Worst Part Is When
You Don't Know That You Don't Know...
Many people are getting started with ADD and ADHD - and they realize that they don't know enough about this complex and often tricky disorder.
If you are just getting started with your journey for ADD/ADHD, then you're in the right place - and you can avoid the biggest problem out there...
But - if you feel that you already know enough... You may be at risk without even knowing it.
You have the facts...
You've read some books, gone to meetings, and spoken to your doctor...
But you may not be free of 'misinformation'.
It may all come down to perspective. A slight change in your perspective can have a dramatic difference in the long term outcome for your loved one with ADD/ADHD - and also for you. So please read this page carefully...
I Want To Get The Perspective I Need >>
How This Product Came To Be...
In November 2008, I was going to speak at a conference held by the Learning Disabilities Association of Peel.
As I often do - I posted a notice to my blog about the event.
This was to let people know so they could attend live.
I was surprised by the response...
I know that a handful of you came to the event - and it was great that you came up and introduced yourselves.
I was more surprised from the number of emails we received - asking if you could get a copy of the recording - because you lived so far that there was no way you could attend.
(this included emails from as far as Australia, Asia, South America, etc.)
Now, I am in the habit of recording myself when I speak - mostly so that I can review what went well and review what I can improve.
But your emails got me thinking - you are asking me for access to this leading edge information - I need to give you access to the recordings.
Hence, this site...
At this conference - I spoke three times - a keynote address, and then for two workshops.
The Keynote Address:

Unwrapping The Gift of ADD/ADHD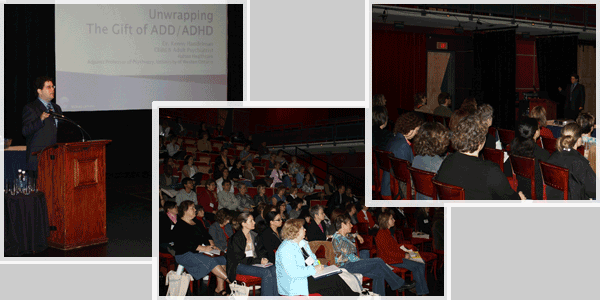 This Keynote Speech contains 81 minutes of information, such as:
Is ADD truly a gift?

Hear case examples - that you can use to explain this to doctors, therapists, teachers, and your child or spouse!

The logic experiment that will help you to decide if ADD is a gift once and for all for yourself
6 steps to unwrap the gifts of ADD or ADHD
How the 'medical system' can actually be harming your or your child's future
Recognize the 'medical downward spiral' before it causes harm
Find the definitive answer - is there genius in ADD?
Discover the 7 simple steps that can turn your ADD differences into strengths
I Want To Hear The Keynote On Gifts in ADD/ADHD>>
The Workshop:

Medication and Alternative Treatments for ADD
This workshop was done twice.
The first presentation was for the educators and professionals.
The second time was for the parents.

I covered the same material each time, but I did emphasize different points in each presentation, to suit the audience that was listening.
Interestingly - the biggest difference came with the questions that the audience asked.
Parents ask different questions than teachers.
...and these sessions were very interactive.
(I told them they could interrupt me with questions - and they sure did!)
Jam Packed

ADHD Treatment

Information

I have to admit something here - I don't know WHY I agreed to cover medications and alternative treatments in one workshop that was supposed to run just over 1 hour.

When I had the discussion with the seminar planners, it seemed fine.
Then, when I started to write my speech - I realized that I had maybe bitten off more than I could chew.

The result?

I had to spend more time to make sure that I only included the most relevant and critical information for you.

You now get the benefit of the most helpful information in the quickest time!

Bottom line?
No fluff.

This jam packed session includes:
Special Bonus Included
For A Limited Time
As I mentioned earlier - I record myself whenever I speak at events.
Just over a year ago - I also spoke at a 1 day conference on ADHD.
At that event, I spoke about ADHD and I covered a lot of the basic ground work needed for all aspects of ADD and ADHD.
In the combined 2 hours and 19 minutes of speaking, I cover:
What IS ADD/ADHD?
New brain research in ADD and ADHD
How ADD is diagnosed
An overview of treatment - i.e. all components
Parenting approaches - the two main ones that work
School strategies
Medication overview
A detailed review of: food additives and ADD diets
Omega 3 fatty acids update - the role they can play to improve ADD
...And much more
The participants at this event spent $150 to participate in this day's events. As my content was half of the day - they invested $75 - plus travel costs to hear this material.
Although my business mentor has advised that I sell this as a separate product - I want to include it as part of this promotion - though I reserve the right to take it down at any time.
So, if you order now - you'll get this $75 value for free.
Please Give Me The Bonuses While They're Still Here>>

Another
Exclusive Bonus

:
Recently, my mother asked me if I would be willing to speak to her chapter of the National Council of Jewish Women.

Even though I gave my mother a bit of a hard time when I was a teenager, I respect and appreciate her so much... so, of course I agreed to speak.

This event was attended by over 50 people - despite a major snowstorm.
My speech was entitled: 'Unwrapping The Gift of ADD/ADHD' (I intended it to be somewhat similar to the speech for the Keynote for the conference above).

What happened was different - I was grilled with questions!

I quickly realized that I needed to answer questions quickly and efficiently, because this audience was hungry for answers.

So, while I did cover the core material I wanted to - there were a lot of real people with real life challenges, struggles and hopes for answers about ADD and ADHD.
(My favorite kind of audience!)
So, this talk that was going to be 1 hour, turned into 1 hour and 38 minutes (it was actually longer, but we've edited out some of the 'dead time' - so you only get the most impactful audio).
And, because I feel that it will add more benefit to you if you order this package - I'm including it for free.

Here's Everything You Get...
When you order today, you get access to the live recorded (and edited) MP3, downloadable lectures right away.
Recordings of The Learning Disabilities Conference - Value of $195

The Keynote Address: Unwrapping The Gifts of ADD/ADHD: 1 hour, 19 minutes - MP3 Recording & PDF Handouts


The Parent Workshop: Medication and Alternative Treatments for ADD/ADHD: 1 hour, 26 minutes - MP3 Recording & PDF Handouts


The Teacher Workshop: Medication and Alternative Treatmenst for ADD/ADHD: 1 hour, 19 minutes - MP3 Recording & PDF Handouts

PDF Handout: In addition to the recordings - I'll give you access to the PDF of my powerpoint handouts.
That will make it easier for you to follow along with the lectures.
(I don't normally give anyone access to my handouts - so this will be a great benefit to you!)
Bonuses:

The recordings of a half day seminar covering all aspects of ADD/ADHD, including new brain research, detailed research on Omega 3s and Food Additives... mp3 Recordings- $75 Value


ADD Speech to local community group: 1 hour 38 minute speech with tons of Question and Answer (that my mom asked me to do!) - mp3 recordings - $50 Value
OK, I Want Access Immediately >>>
So What Are These
Seminar Recordings
Worth To You

?

It's hard to put a value on the power that one idea can have to change the life of someone with ADD or ADHD.
I see it regularly in my office, and in the emails I receive from my online customers.

That said - I know that these are tough economic times, and that there are often many costs and expenses when ADD is in your family.
And the reason that I've even created this product is because I listened to those of you who asked for this.
...and I want to make sure that this information can get into your hands easily - and into the hands of the people who need this information the most.

Let's put this into perspective:

If you were to see any doctor or psychologist to ask your questions about ADD/ADHD, you'd pay at least $200 per hour
(and you're getting 7+ hours of material here... i.e. $1400+).

When people attended the event live, they paid $195 Canadian Dollars (about $170 USD at the time).
Plus - they had to travel to the event, pay for parking, etc.

In addition, the value of the bonuses total $125.

Total real world cost: $320.00

If
You Feel That This Is Right For You

-
I Want To Make Sure

It's Within Your Reach

.

That's why this product is being introduced at the easy price of $97.

When the real world cost of this product is $320, $97 is less than one third of the cost, and certainly it's a lot more affordable than paying to see a psychologist or psychiatrist to get information on an hourly basis.

Knowing the economy that we're in right now, I will cut that price in half $97 to $47.
At $47, this is 86% off the real world cost of these recordings...

And to make sure that you can get your hands on this TODAY, you can choose to make:
One Payment of $47, or
Three easy payments of $16 (every 30 days)
(the 3 payments will make it easy for anyone to take advantage of this offer - it's less than fast food once a month!)
Be warned - We reserve the right to increase the price from $47 up to $97 without notice...

I Want Take Advantage of this Offer >>>



We're so sure that you'll love these digital recordings that we're offering you an Unconditional 100% Money-Back Guarantee. If you are not completely satisfied with your purchase, simply let us know by email, or phone within 30 days and we'll refund your money, in full, with no hassle to you.
The burden to deliver and satisfy is entirely on us. Try these life changing programs out today.
Sincerely,


So, take advantage of this offer now - while it's still available.
YES! I want to get immediate access to your seminar recordings which will give me the foundation that I need in ADD/ADHD and also give me the different perspective which can make a dramatic difference:

When I order today, I'll get the downloadable MP3 recordings and PDF Handouts from your keynote address: Unwrapping The Gift of ADD/ADHD, as well as the recordings of the Medication and Alternative Treatments Workshops for teachers and parents

I'll also get the FREE bonuses: another downloadble MP3 recording from an ADHD seminar, including an overview of ADD/ADHD, new brain research, parenting approaches, academic strategies, medication treatment, and a lot more...

Another FREE bonus of a downloadable MP3 audio of a community lecture - covering ADHD information as well as a lot of Questions and Answers from concerned parents

I know that I'll get immediate access to a membership site where I can download the products and start listening right away (and I know that keeping this digital reduces the costs significantly)

I know I'm covered by your no-hassle 30 day money back guarantee

I know that this I am getting this for $47, which is 86% off the real world costs of these recordings. I know that this price may be increased at any time, but I can lock in my discount right now
Click Here For:
1 Payment of $47

Click Here For:
3 Easy Payments of $16
(30 days apart)
I hope that you'll take advantage of this opportunity and then share your successes with me...
I'd love to know how this works for you.
Yours Truly,


p.s. Remember, this 'recession economy' pricing may change at any time - so lock in your discount now...
p.p.s. For less than the cost of a burger for two people, you can 'test drive' these recordings, and make a dramatic change in your life (or your child's or spouse's). If you aren't 100% satisfied, just let us know and you're covered by our 30 day no-hassle-guarantee. Click here to order now.

Medical Integrity Inc. 1011 Upper Middle Rd. E. #1425 Oakville, Ontario L6H 5Z9 Canada
Phone: (888) 283-0747 Fax: (888) 283-0747